Diamond Classic Plain 0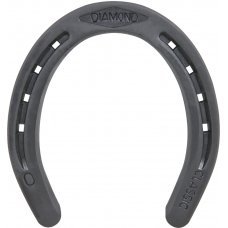 Classic Plain
The Diamond Classic Plain is a basic flat, 1/4" thick, creased horseshoe in a one shape pattern (no front or hind) designed for versatile use. This is an excellent shoe for general riding; outstanding quality at a competitive price. Shoes are symmetrical. Punched for City or Slim blade nails.
Product Features:

Nail hole pattern allows more accurate nail placement.
Wide web for increased bearing surface and hoof wall support.
Full 1/8" wide crease permits deep seating of nail head in counter sink.
Nail head won't hang-up on crease walls.
Increased inside shoe taper provides relief from snow and clay build-up.
Precision spaced and punched nail holes.
Lightweight for reduced fatigue.
10° crease draft.
Gives more control over slant following draft of foot and hoof.
Longer creases for improved traction.