Liberty City Head 5 250CT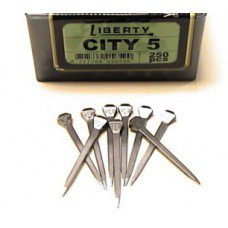 The Liberty line was developed by the Kerckhaert Horseshoe Company using state of the art equipment and materials.  It is already recognized by top professionals throughout the world as a consistently high quality nail with clean features, sharp points and excellent driving and clinching performance. The line has grown from an E-head range to include race, city, slim and regular head styles.  Nails for every type of shoe and horse are now a part of this program and they continue to meet the demands for quality and performance.
City Head Nails
Nails with the City designation were once the most commonly used nail and still hold a substantial share of the market. The blades are slightly larger in dimension to provide more strength and durability. Most of the American style shoes in the market are punched for 5 City and 5 Slim.