Cody James Dymondback Complete Rasp Aggressive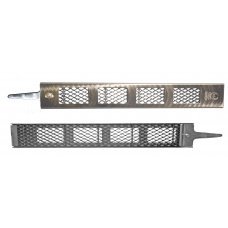 There are 3 different options: Fine, Medium & Aggressive. They refer to the amount of foot you can take off with one stroke. You'll take the least amount with the fine and the most with the aggressive. We advise starting with a fine or medium as it's an easier transition from a standard rasp.
Lasts 3-6 times longer than the average rasp, making it the least expensive rasp on the market. Just replace the refill when needed, keep the frame.
Will not clog
The wide surface makes leveling a foot more accurate.
Patented design cuts quicker & easier which limits wear & tear on your body
Made in the USA with the highest quality American steel
The handle is not included but is available for purchase.
An optional end cap is available for added hand protection.
Includes: frame and insert 
Overall Dimensions: 18-1/2" X 2-1/4 X 3/8"
Cutting Surface: 14" x 2"