MFC Long Curved Blade w/Special Rubber Handle Right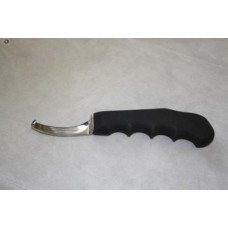 All our blades are hand forged at the anvil from 1045 steel and the handles are individually hand carved from white mahogany wood or black rubber. You will find these the sharpest available on the market.
Please use a diamond hone or diamond rat tail to sharpen your knife by hand, You may also use a flap wheel and a buffer to sharpen the knife to a very sharp edge. PLEASE DO NOT USE A FILE OR A ROUGH STONE, the steel is too hard. After about a month of continuous use you will need to use a diamond hone to put a new bevel on the blade, as it takes about 100 horses to use enough of the edge to have to rebevel it.