Liberty E-5 Slim Copper 250CT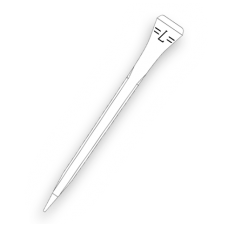 The Liberty line was developed by the Kerckhaert Horseshoe Company using state of the art equipment and materials.  It is already recognized by top professionals throughout the world as a consistently high quality nail with clean features, sharp points and excellent driving and clinching performance. The line has grown from an E-head range to include race, city, slim and regular head styles.  Nails for every type of shoe and horse are now a part of this program and they continue to meet the demands for quality and performance.
E-Head Nails
E-Slim are European style nails. These fit well in shoes like the Kerckhaert DF and SSP series that were made first for the European market but found their way into the American market, especially in the Hunter and Jumper discipline. Some farriers prefer to punch their hand made shoes for E-heads because of the symmetrical nature of the nail. There is also a feeling that an E-head nail has more strength because the shank comes out of the center of the head, with slightly more mass.
 Liberty Cu Horseshoe Nails with Copper (Cu) Shield Technology
In addition to all of the same great features of the regular Liberty nail Liberty Cu horseshoe nails include Copper (Cu) Shield Technology. This technology provides much more protection than traditional horseshoe nails. Hoof wall, white line and sole are stronger and healthier when Liberty Cu nails are used on a daily basis. The Copper(Cu) Shield Technology is unique to Kerckhaert and Liberty Cu horseshoe nails.