Hall Loop Blade Knife Long Handle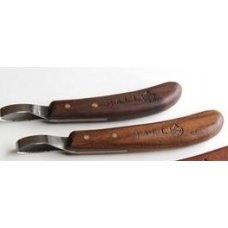 The "Hall" knife uses high carbon steel that is tempered through an exacting process, allowing maximum durability. The superior sharpness of the blade is skilfully achieved in order to provide effective trimming of the frog and sole of the hoof, while keeping safety and comfort of the farrier in mind. Since each and every knife is hand made, Hall Knife and Forge stands by their product and offers a full limited guarantee against manufacturing defects. 
The Hall Loop Knife is perfectly designed blade for trimming excessive frog growth from the sulcas and heels, giving a clean hygienic hoof. This Loop Knife has a regular length walnut handle. Loop size 1 1/2" or 38mm.
Available in Regular or Long Handle.