Hall Long Drop Knife Right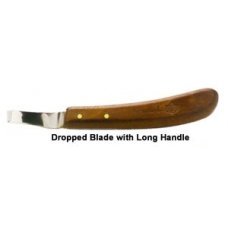 Hall drop blade hoof knifes are a favourite for trimming. Many like these knives because they are tough and fit well in the hand. Drop blade makes it easier to find a precision cut.
Hall hoof knives are made from high carbon steel that is tempered, allowing maximum durability. The superior sharpness of the blade is skillfully achieved in order to provide effective trimming of the frog and sole of the hoof, while keeping safety and comfort of the farrier in mind. The blade is polished then mounted in an ergonomic handle, milled from solid walnut, pinned together with our mark. Since each and every knife is hand made, Hall Knife and Forge stands by their product and offers a full limited guarantee against manufacturing defects.
Available in Right and Left, Short and Long Handle. 
Made in Canada.